TWO OF EVERY ANIMAL...AND SHOWS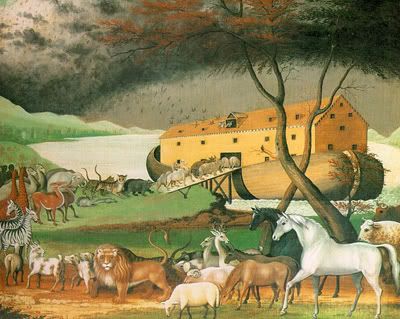 Hi kids,
Artsy-fartsy Erica is busy fortifying her heretofore funkily maintained new casa with sandbags, tarpaulins (yes I said it, TARPAULINS...), french drains (as my friend Jack says, they're french...you can't afford 'em) and the like...lest my man, my kitty and I float on down the hill and out to sea. Just heard we're in for another week of storms...apparently Mama Gaia is in need of some catharting (ain't we all though, really?!)! Maybe we should stop trying to shore up our flooding garage, and build ourselves an ark...
So I'll keep this one short and sweet. I have shows happening in the now/ upcoming in February at the venues listed below. Please refer to my events calendar for detailed information and web links...gallery websites should have dates, hours, location, and all other pertinent info, or feel free to drop me a line at erica@ericasteiner.com.

GROUP SHOWS IN JAN/FEB '08:

Big Umbrella Studios (San Francisco) Meet the Artists...thru mid-feb
Launchpad Gallery (Portland, Oregon) The Love Show...thru the end of feb

Felix Kulpa Gallery (Santa Cruz, CA) We Are Felix...through the end of feb

Truxtop Gallery (LA)...Winter Wanderland...comes down sometime in January...not exactly sure when (check the website)

San Mateo City Hall Art Gallery (San Mateo, Bay Area, CA) Red...thru mid-february

FYI, I'm going deep into the studio for a while, to give birth to this next series. I'll catch you all when I resurface...from my subterranean studio, which hopefully will not become submarine before winter's done. Ooooohhh....the lights just flickered...pray for us, now and in the hour when our power goes out!
Erica